Chiropractic Care for Shoulder Blade Pain
Chiropractic Care for Shoulder Blade Pain
Written By John J. Giovanelli, D.C., P.C. on March 25, 2020
---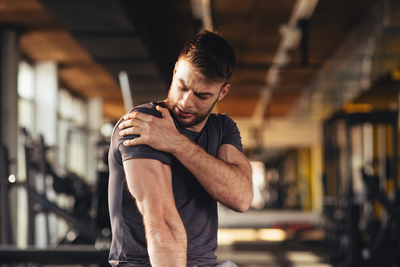 Shoulder blade pain is not only uncomfortable but can be a sign of underlying issues within the body. Here at John J. Giovanelli, D.C., P.C., in Peachtree City, our team sees patients regularly for both known injuries and unexplained shoulder blade pain.
Common Causes of Shoulder Blade Pain
Shoulder blade pain, otherwise known as scapular pain, can be caused by several different things. From an injury to degenerative disc disease, shoulder blade pain is more common than you may think. Believe it or not, gas buildup in the body can even cause pain or discomfort in the neck, shoulders, and jaw.
While a myriad of different things can create shoulder blade pain, there are a handful of more typical reasons that result in patients seeking out chiropractic care both in the Peachtree City area and across the country, including:
Poor posture
Improper lifting techniques
Compression fracture
Herniated discs
Dislocated rib
Fibromyalgia
Scoliosis
Osteoarthritis
Spinal stenosis
Nerve compression
How Chiropractic Care Helps Shoulder Blade Pain
While shoulder blade pain is a common issue many people experience, you shouldn't accept it as a normal part of life. In fact, more and more people are seeking out natural remedies to help rid them of their chronic and acute pain, leading them to their local chiropractic team.
Chiropractic care can help with shoulder blade pain in several ways; however, the two most common methods of treatment include spinal adjustments and massage therapy.
Spinal Adjustments
A spinal adjustment, otherwise known as spinal manipulation, is the process of applying a controlled force to the vertebrae of the spine. This process helps to realign the body's musculoskeletal system to help relieve pain and take the pressure off the body's joints.
Massage Therapy
Massage therapy is often used alongside spinal adjustments to help relax the body and further target specific muscle groups that could be causing your shoulder blade pain. Much like a spinal adjustment, massage therapists will apply pressure to particular parts of the body to help reduce stress, pain, and so much more.
Chiropractic Care for Shoulder Blade Pain in Peachtree City
Pain should never be considered normal. Here at John J. Giovanelli, D.C., P.C., in Peachtree City, our team will help you not only pinpoint the location of the pain but create a treatment plan unique to your needs.
If you're currently suffering from shoulder blade pain, please schedule a consultation today or call our office at (770) 487-1228.

Posted In: Chiropractic Shoulder Pain Treatment Shoulder Blade Pain