Even a Minor Accident Can Result in Serious Injury
Even a Minor Accident Can Result in Serious Injury
Written By John J. Giovanelli, D.C., P.C. on November 30, 2020
---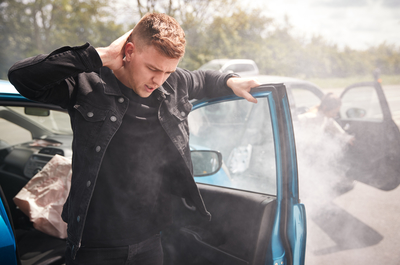 Even a minor traffic collision is a scary event.
Though you might feel a bit shaken afterward, it isn't uncommon to experience little to no pain – at least at first. Therefore, seeing a Peachtree City chiropractor after a minor accident can seem like overkill.
However, recent research shows that even a minor auto accident can result in damage that leads to long-term issues.
Why You Should See Your Chiropractor After a Minor Accident
A low-speed auto collision is one that occurs at 10 MPH or less. Typically, there's minimal vehicle or property damage. While minor, such an accident can still cause significant damage to your body.
Recent studies have found that low-speed accidents – especially those that happen from behind – can result in:
Whiplash injury
Neck pain
Headaches
Sore shoulders
It doesn't take much to damage the delicate vertebrae of the neck. In a 2018 study, researchers discovered that 21% of people in low-speed accidents experienced neck pain symptoms.
A minor accident injury, left untreated, can cause long-term damage, including:
Chronic pain
Reduced flexibility
Loss of mobility
When you sustain an injury, there's an inflammatory response, leading to stiffness and pain. You'll also start to develop scar tissue at the site of the injury. Scar tissue is a type of connective tissue that's not very flexible.
As time passes without treatment, you can develop chronic inflammation. Scar tissue will continue to grow, too, limiting your mobility.
How Your Peachtree City Chiropractor Can Help
Your chiropractor can provide a variety of treatment options that reduce inflammation, break down scar tissue, and realign the cervical spine (neck). Dr. Giovanelli might recommend one or more of the following:
Don't Wait – Get the Treatment You Need Today
The longer you wait, the more damage occurs. Contact your Peachtree City chiropractor, Dr. John Giovanelli, D.C. as soon as possible after your accident.
Dr. Giovanelli can help you in multiple ways. In addition to chiropractic therapies, he can recommend lifestyle adjustments that will make your body healthier and more resilient.
Don't wait until you're in pain. Talk to Dr. Giovanelli today to find out how you can prevent long-term damage after a minor accident.
Are you experiencing headaches or sore muscles after a low-impact collision? Contact our office right away at 770-487-1228 to schedule a consultation.

Posted In: Chiropractic Auto Injury Whiplash Treatment